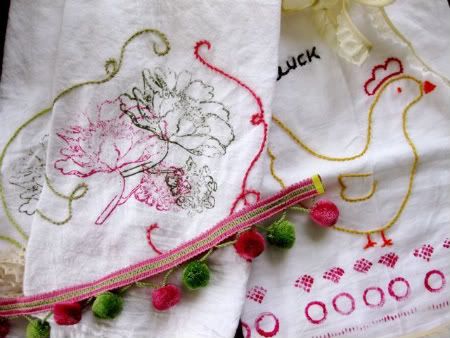 I feel eighty-nine for admitting this, but lately I've gotten into embroidery. These dish towels started out as a screen printing project, from a class I took with Janelle where we made our own screens. But then I looked at them and thought,
Hey, these would look even better with embellishment. Too bad I can't actully use that old Martha Stewart embroidery kit I "won" on eBay for $8 four years ago.
So I whipped out the kit and discovered that, with more patience this second go-round, I can embroider. Especially freehand. Now the dish towels do look much, much better, with scrolling embroidery across the bottoms. Of course I thought they needed one more thing: trim. I bought some at Jo-Ann fabrics in Lawrence, and am hoping that this will be the end of it. Do not complain if this is your birthday gift. The labor of love alone is worth at least $50, and they are even cuter in person, I swear.