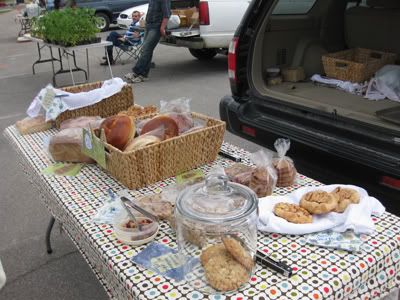 Nothing better than sitting, sunburned, at a hot table, bathed in humid Kansas air. Nothing. My shoulders and neck felt as clammy as my wares, opaque bread sweat fogging up the plastic. Late, I sped recklessly to the market, arriving four minutes after the starting bell — yes, the bell is real — only to find my spot filled. The misplaced vendor apologized, saying a truck had been parked in his space at the time, so I swapped him for the day, rushing to set up my table while people browsed.
Brewing storm clouds loomed and droplets fell, but that didn't stop me from selling the heck out of those white chocolate-macadamia nut cookies. Big selling tip: put giant cookies in a clear glass jar. Doesn't matter what kind they are. One guy stopped his truck right in front of my booth to buy one with the engine running.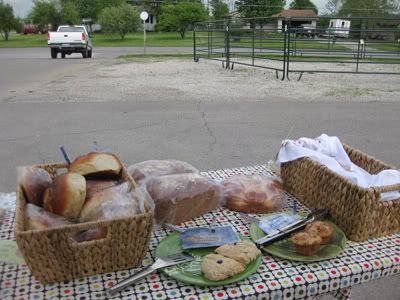 This week's raspberry crunch bars were gone before the samples were finished, which ended up being awkward when people tried and then wanted to buy those. I think I'm going to need a weekly menu on my future website, plus the schedule. Ooh, and an order form. Wouldn't that be nice?
Prom queen: Apple hand pies
Sore loser: Focaccia squares