Nestled in Florence
Our birdlike hopes unfeathered when the train deboarded onto steaming Florence streets. We'd crossed fingers for cooler weather, arguing at the internet display with three days of smiling suns. On the way to the hotel, we saw pizza in a restaurant window topped with french fries. Streets were smaller, making crowds a bit dense in the popular areas. Luckily, we weren't there for shopping. We avoided crowds with a random, nonexistent game plan.
View from the Ponte Vecchio on a still morning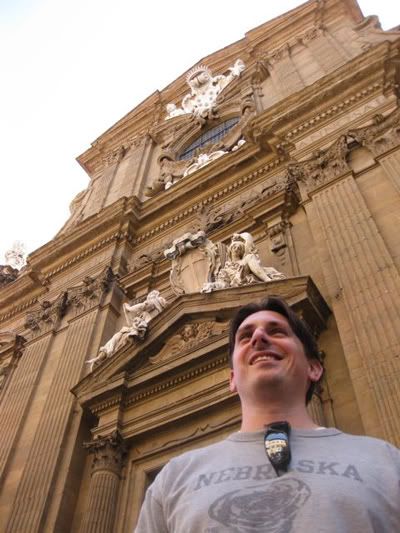 Of all the zillion churches, this one was dedicated to Saint George.
George enjoyed the view from the top of the Duomo, which he climbed alone.
Our morning trips were meandering and long, ending with a bakery visit for bread and crostada (a jam-filled Florentine dessert) and a mishmash meal of fresh cheeses, pesto, olives and fruit — whatever we could find at a nearby grocery. A cooling down period followed, intended to give both sidewalk rage and body temperatures a time out. By round 2, the tourists were shopping and settling into dinner routines. It didn't take long to figure out the locals' schedule: shopping 5-7, dinner at 8. Fortified by a PM cappuccino, we ignored the shopping and visited the churches and piazzas, devoid of lines. Cool enough by 8 to enjoy patio dining, we barely scanned the menus before falling into a chair next to a bowl of olives and fresh bread.

Half of the steps we climbed up to Piazza de Michaelangelo — they extend beyond the trees —
plus we already scaled two steep hills. It was worth the climb.

The view of Florence from Piazza de Michaelangelo was amazing.
I'd read terrible things about the town of Pisa, which supposedly exists as a tourist pitstop only for its tower. But we had a lovely time there. George climbed the tower right away, there was no line at 4pm, and the duomo was cool inside with an interesting, carved pulpit. Following our free map, we threaded the angled streets, still curved from the original fortress walls, finding more churches to ogle and then a sweet park hidden inside crumbling city walls with lookout towers still intact. We rode the train home quietly and marched back to a pasticceria near our hotel for my favorite type of meal: piecemeal. We bought a cannolo, a tiramisu and a layered cake thing with berries (it had a name, but, alas. . . ). Next door, we got a thick slice of pizza for George and a baked eggplant with parmesan for me, then we headed to the room for a picnic in bed.


Guess what this is. . .
The coolest part of the duomo was this carved pulpit,
which told the story of Jesus all around the top.

What we ate in Florence varied wildly. Grocery store pesto was THE find for me, and I dolloped it onto bread with a heavy hand, making inelegant sandwiches with torn bits of mozzarella and tomato. The stores also sold bits of fresh cheese for under $2, so this became my lunch staple. Florentine baked eggplant proved to be the best I've ever eaten, hands down, and I eat a lot of eggplant. Including an eggplant and almond pesto on homemade pasta that was also delicious. For his part, George ate the second best (Grandma's will always win) lasagna bolognese and found that he likes fresh caper berries.
We left Florence with bottles of olive oil, pesto, apricot honey, caper berries and wine, making our suitcases impossibly heavy. Little did we know then how heavy they'd be to lift over all the bridges in Venice. . . .
View of the countryside — including an olive orchard — from the train
George loved his first class seat, right next to the AC.
Some great sight-seeing this way, tiny towns and orchards whirring by at 100mph.
Part 3, Venice, to come.