Fresh off the plane. Or should I say not so fresh?
I've been daydreaming of Italy since high school, back when I thought Seventeen would purchase my angst-ridden romance tome and the $250 prize would finance my whole trip. Last year, George and I were set to go in the fall, before the move to Kansas streaked through our plans with its graceless, nude reality. We were too stressed out adjusting to follow through; we postponed to spring. Fast forward to May. Among the plethora of weddings and graduation rituals, we carved out a plan of attack — 11 days of roaming throughout the country, a caffeinated, whirlwind of sightseeing.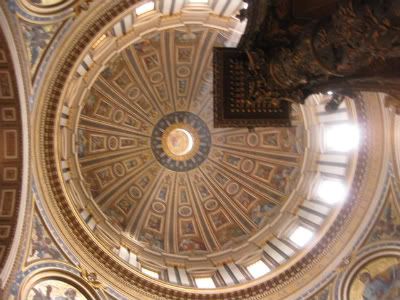 Inside the dome of St. Peter's with an arm of Bernini's bronze pillar
After tooling around the basilica and vatican grounds, we climbed a giant hill. George was pretty excited.

Roman holiday, of a sort
Three days in Rome wasn't enough to see everything. We walked up to 12 miles a day craming in the basics, 8-10 hours of hot, dusty trekking. Sustained by pizza and oodles of bottled water, refilled from the city's thoughtful fountains, we stood in lines for the vatican and museums in unseasonably hot 90º weather (July weather, everyone said). I ran into a college friend, Marci, walking to the vatican museum and met her husband for the first time. How embarrassing it was that I couldn't stop sweating after we'd race-walked five miles to get there. Really, with the odds of seeing someone you haven't seen since college on a random sidestreet in Rome, you'd think I'd be less worried about my beading forehead. Ah, vanity.
Inside, I never imagined viewing the Sistine Chapel ceiling would feel so much like a fire drill practice, shuffling through airless corridors in a herd, following signs to the chapel that seemed like a bad joke after twenty rooms go by. We were packed so tightly in hallways, some only an arm's length across, that people kept stepping on the backs of my sandals so I couldn't move forward. But then we were finally there, sitting on benches to stare up at frescoes I've only seen in pictures. . . then taking my own (blurrily illegal) pictures.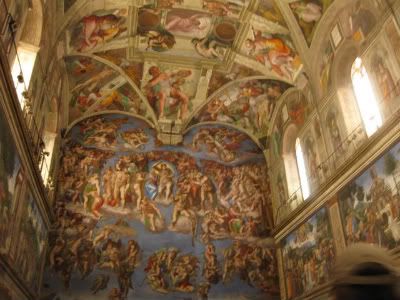 I was pretty excited to have only one guy's head in this shot.
Hundreds of people filled the room.
Cool stairs on the way out.
After smashing against strangers all day, walking the extra two miles back to our boutique hotel, tucked into a quiet neighborhood, seemed like a small price to pay.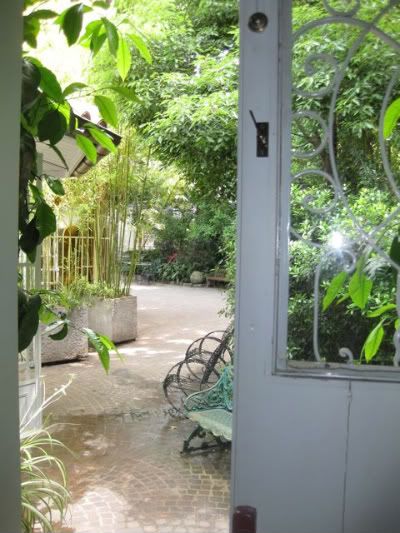 A view of the private gardens just outside our bedroom.
We spent a whole day wandering through favorite spots: Spanish steps, Trevi fountain, the ruins of ancient Rome, the museum of the Republic and, finally, the Colisseum. The day was long, hazy with heat, and crushed with weekend tourists. Along the way home, I bought Spanish fruit called nespoles, plus bananas and grapes. It tasted a bit like quince, hard-pear firm but prettily apricot in color. I liked it, but George thought it was awful.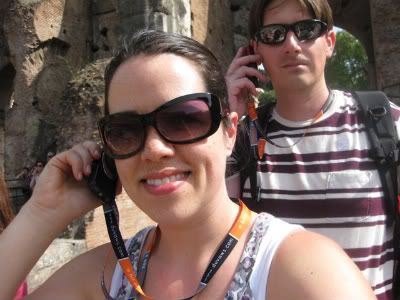 Listening to our colisseum tour audio.
In Rome, I ate pizza with zucchini blossoms (good), mozzarella in corroza (essentially fried fresh cheese, delish, btw), fresh pappardelle with pumpkin and ricotta (interesting), croissants with white chocolate (best ever), and my all-time-favorite plate of spaghetti with marinara. George discovered that a pint of beer helps his feet relax and there followed a ricotta phase that plagued me for a day and a half, through pizza, sandwiches, pasta. But I had to admit the cheeses were amazing, and any kind of pizza was delicious crowned with fresh mozzarella.
Stay tuned for part 2, Florence. Coming soon. . .