We like Switzerland already.
To keep it short, we hated Milan. We arrived to crowded, car-filled streets with McDonald's and Burger King on the corners.Our hotel was miserable, rude staff and a room the size of a quarter with a roaring but ineffective window AC unit. At least the sound of it kept out the din of the city. Added to the shopping quarter filled with American stores, we were disenchanted right away. We decided not to waste our limited time in Europe looking around a city that felt eerily like Detroit with Italian-style architecture.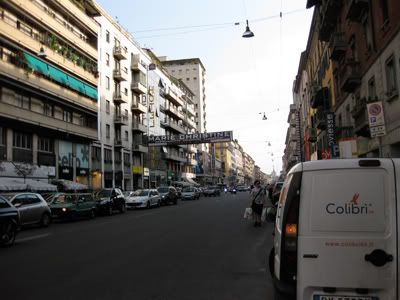 I took all of 3 pictures in Milan. Two were for my hotel complaint form.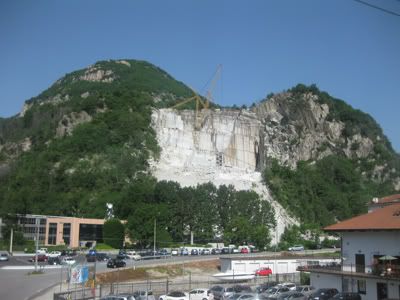 From the train, we passed several granite mines, dug into the mountainsides.
Instead of tooling around in the miserable, crowded heat, we took a high-speed train to Brig, Switzerland, a two-hour trip. For a mountain town of 5,000 people, we weren't expecting much beyond a reprieve from the stifling city temperatures.
We didn't get that. What we got instead was an adorable postcard town with manicured yards and sweet, stuccoed buildings.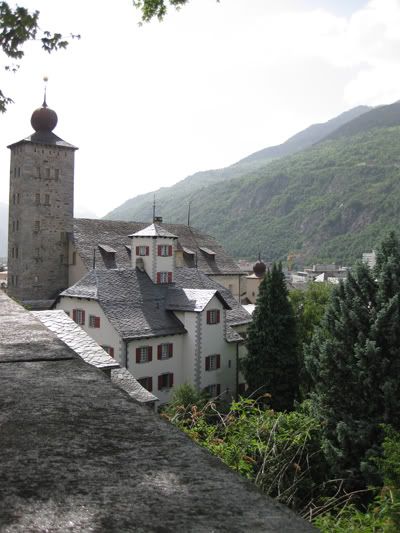 One end of the palace, plus neighboring houses.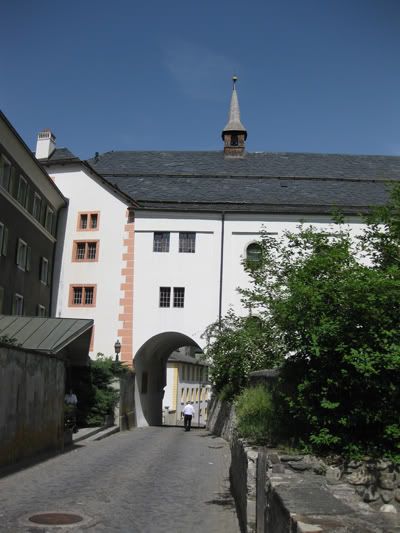 Roads through buildings are an interesting choice of Brig city planners.



Cobblestone streets up the side of a steep hill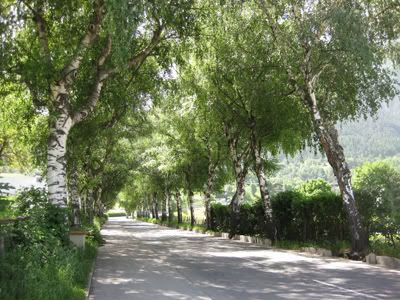 What I want my country driveway to look like one day


With zero tourists clogging up the streets, George and I had run of the town.The city offers a spectacular mountain view and brims with skiers and snowboarders in winter. Since we didn't plan this particular leg of our trip, we failed to realize that they spoke French or German in Switzerland and also used francs instead of euros.

Spires of the palace tower over the neighborhood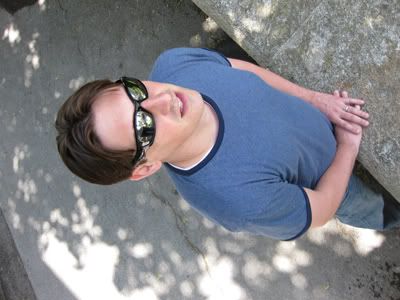 George and his sunglasses have a moment.


We ate at a hotel where a single person spoke English, though very well, and we paid in euros, receiving change in francs that we used the rest of the day. We navigated the menu using all of our best translating skills, but we wanted to order something Swiss. The waitress recommended an off-the-menu platter of preserved local meats for George to make into sandwiches, using butter, cheeses, and the rye breads from our basket. There must have been seven kinds of meat on the plate, shaved so fine the light shined through. We had no idea what they were and quickly gave up our guessing. George ate every last bit with relish.

For my part, I've never had a salad or an omelet like those. An avid beet hater, I ate the full pile of pickled beets served alongside my salad. And they were delicious! Halfway through our meal, a cook threaded the tables, spooning vegetables cooked in butter and cream onto plates indiscriminately. We didn't communicate well. I said no and nein quite clearly, but she poured them over my omelet anyway and said "Good!" enthusiastically. Oh I ate them, and they were good. Dammit. For dessert we ate a strawberry sundae with homemade ice cream. Mmmm.


A cool, landscaped graveyard with a view


Admittedly, we didn't plan too well. Our plan was hatched so late that only one train ran out and back
that day, so we were stuck for 7 hours. Which would have been fine, except that almost every store and restaurant, except for hotels and mini marts in the train station, was closed for Sunday. We wandered up and down every street, window shopping, then down to the river, gushing chalk-colored water, and even into the countryside. Switzerland was enchanting. Everywhere the grass was neatly trimmed, shrubbery shaped, and blossoming flowers perfumed the roadways.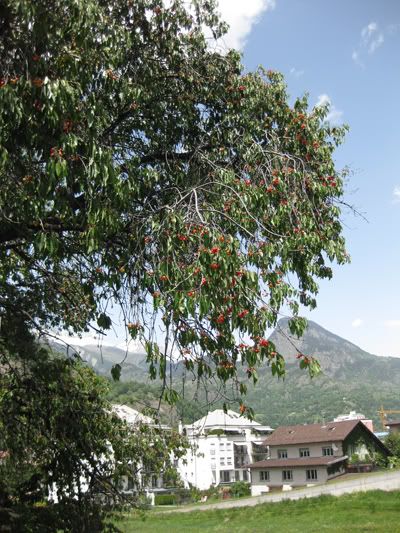 Rainier cherries grew on this tree. I ate some.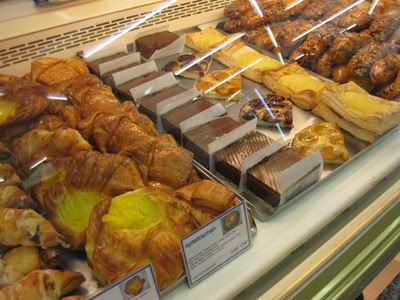 Some Swiss pastries to round out my obsessive bakery photo collection.


On the way out, I bought a peach danish that I could have made better. We used our last francs to buy a 2-liter bottle of tea, which we chugged in record time, awaiting our train.
At 6:30am next day, we were on a bus to the airport, clearing the last round of baggage check just in time to catch our flight. If you travel in Italy, be careful to leave at least two hours for airport check-in. Their lines take forever as nobody is in any hurry except for you.

I got this face a lot. Especially when suggesting a longer walk.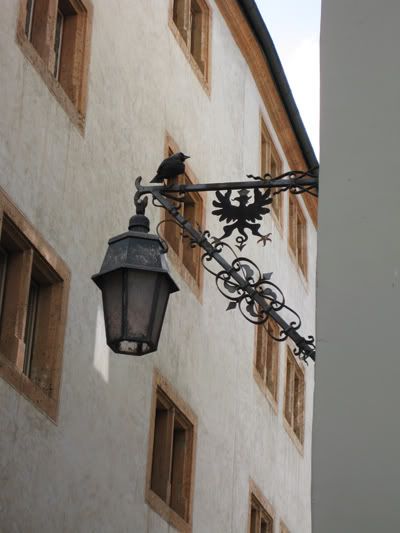 We liked the pairing of a
real raven perched on the streetlight with a
wrought iron
bird.

In Milan we ate a memorable Italian pizza and tomato flatbread made by a Korean man who tossed his crust in an enviable way. Cappuccino and croissants from the train station bar were delicious and cheap. Coffee in Switzerland was terrible. Fittingly enough, we closed our culinary tour of Italy with another amazing pizza. We shared a table with an older Australian couple, veterans of European travel, who told us about their favorite places in Italy. Too bad we didn't meet them earlier.
Coming soon, and last in this series, Italy's oddities and gems.
Note: I'm sure we did Milan a disservice with our breezy, surface tour. But our hotel check-in was so disheartening, and it was just so HOT everywhere, that we wanted to escape to the mountains. We did regret not having seen St. Peter's, but we couldn't have done it all and were pleased to have seen a bit of Switzerland regardless.