Breakdancing for the crowds in front of a church in Rome.
My original reasons for going to Italy aren't the same reasons I'd go back.
For one thing, I was worried because we didn't speak the language, but I found unexpected solace in the incomprehensible bustle going on around me. People sounded like white noise, which was quite relaxing. You didn't have to talk much, and nobody understood you. We mostly mumbled wows to each other and then got annoyed at how often we were saying "what?" because we got used to not listening when we were out.
I thought we'd like the food, but that it might be difficult to order more than pizza or spaghetti. Instead, we ate a wider variety of Italian foods (plus some Swiss ones) than we ever expected — or knew existed — and were rarely disappointed in anything we were served.
I thought it would be pretty, especially lingering in beautifully-crafted churches. I can't tell you the names of 90% of the churches we wandered through, but I do know that we found gorgeous scenery everywhere, simply because we were looking for it. Part of vacation is your brain turning over, switching from your usual thinking to a more appreciative mindset, a valuable asset if you're able to implement it at home as well as abroad. I came home wishing I walked around more, even just in my town, perusing things.
What I would have packed in my suitcase. . .
Coffee — It wasn't just the abundance of fabulous coffee everywhere, it was that the Italians took the time to make it right. There was no "skinny" or Splenda, just straightforward and excellent ingredients. I admit I was greedy — no excuses! — and had at least one and up to four cappuccinos per day. I wish I had one now. . .

Gardens — People grew flowers and plants in every available space, balconies, windowsills, doorways. Courtyards and entries were especially lush with greenery.
Walkability — You could get anywhere you wanted on foot, especially in smaller cities like Florence and Venice. Sidewalks were well-maintained and paths clearly marked.

Restaurant dining — Waiting tables is a career, and staff does not rush you or try to sell you additional things. Instead, we were left to leisurely chow on salad or appetizers, entrees, coffee and dessert without someone popping over our shoulders to see how things were going every five minutes.
Salad dressing — There isn't any. Your salad is accompanied by cruets of oil and vinegar. I love DIY dressing!
Promenades — Everyone has an afternoon and a pre-dinner stroll. It's lovely.
Breakfast — A morning croissant is a necessity. In Rome, they ooze with white chocolate; Florence, they're filled with apricot jam and glazed; Venice wrapped theirs with thin chocolate shavings; and Milan's are orange-scented and dusted with powdered sugar. Rome's were my favorite!
Convenient train service in Italy — Fast and affordable, the trains went nearly everywhere and made it easy for us to travel without fuss.
And now, some of the oddities. . .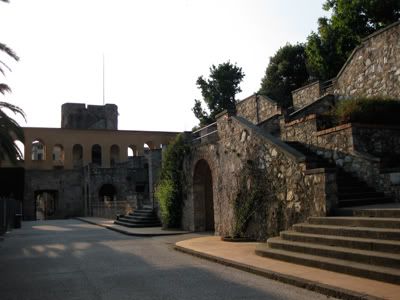 Pisa's best park is built inside the center of the city's original walls,
complete with lookout towers.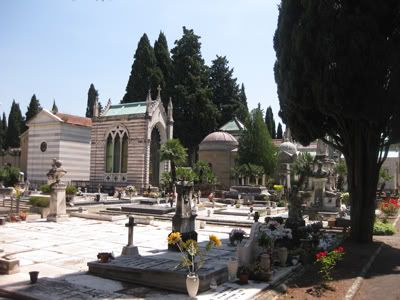 A gorgeous cemetery in the grounds of an historic Roman fort.
Larger buildings are family mausoleums.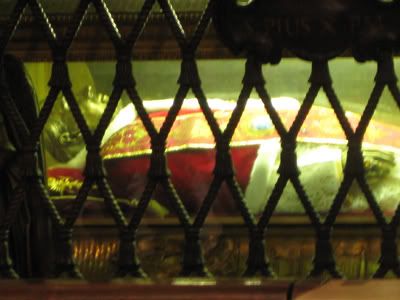 What the hell? There's nothing positive to be said about this icky pope-bronzing trend.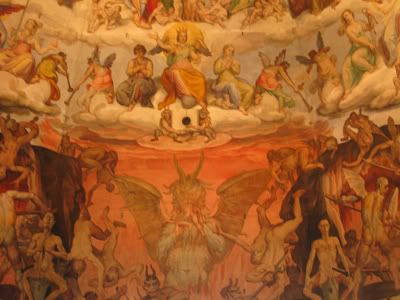 Creepy dome fresco in the Florence duomo. George could only see it by climbing 463 stairs,
but then he realized that Satan was actually eating people. Grrrross.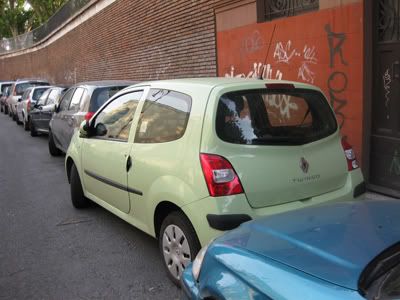 How people park. With just an inch between cars, I wanted to watch them drive out.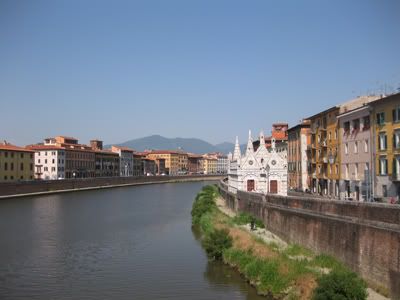 Mausoleum in Pisa, right along the river, all alone but built into the wall.