In other news, we went on our second househunting trip yesterday evening. The gods/fairies/pissed-off gnomes of real estate do not appreciate my pretty toes at all. The houses were awful. I usually take pictures to help us remember which houses had which features, and I just stopped photographing the last three homes. Ick. One house would have cost the entire list price just to replace the gold wallpaper, amazingly mustard yellow deep shag, and wood panelling throughout, aside from the ancient appliances and popcorn ceilings and built-in glass shelving specially built to display our deer antlers. Mmm-hmm. They actually had appliances so old, I think I could have made a bunch of money selling them, since they supposedly still worked. But George and I came home feeling pretty defeated about the whole house thing. We're back to our same original two we've been contemplating for weeks now. Country house versus city house. Where "city" is really "small town."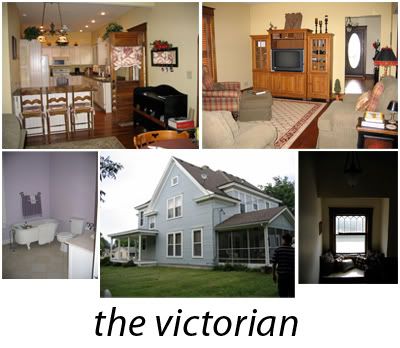 Victorian home. In town.
PROS:
Beautifully redone, moved from its original foundation, so all walls are rebuilt, new foundation/basement poured, almost everything in this house is only six years old, except the wood, windows, floors and pocket doors. Nothing in the house is cheaply finished. Brand-new garage with unfinished mother-in-law apartment on top (potentially very nice, as those of you with mothers in law know!) and an in-and-out dog pen attached. Huge fenced yard with apple trees. My very favorite reading nook at the second landing of the stairs.
CONS:
The windows aren't insulated and the heating/cooling bill is sky-high. Price is a little steep when people are able to buy brand-new homes for less. We moved to the country to have a little more space. This would give us a bit more space and a much nicer home for the price than in Denver.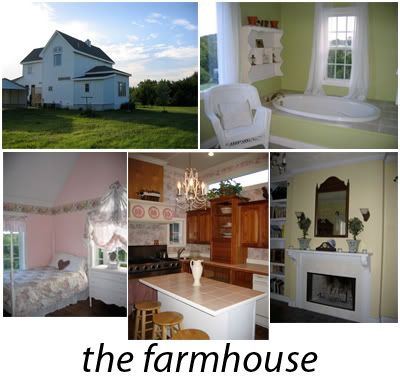 Farmhouse,

built to model original house on property

. In country.
PROS:
72 acres of gorgeous land with rolling hills, lots of trees, and a quarter-mile winding driveway to the house that's completely hidden from the road. House is only three years old, but is built to incorporate one piece of the original building (see bottom right part in back of house photo). Two huge bedrooms and three very spacious bathrooms. A large office on the side of the house with tons of windows (they call it a bedroom, but it doesn't have doors, so. . . ). Beautiful wrap-around front porch (I somehow neglected to photograph the front of this house, oops). We're so far from the road in this one that the pets could just roam around outdoors and I wouldn't worry, which is nice.
CONS:
Probably more fleas. ;) We cannot figure out how we would fit our furniture into this dainty little house with, it seems, original sized rooms except for the bedrooms and baths. The living and dining rooms wouldn't really accommodate our couches and table, and it's hard to envision where everything would go. No garage and they get pretty hefty hail storms around here. There is toile in the kitchen and one of the bedrooms. The people custom-built this house for themselves and their kids, and they even put in permanent child-sized rooms — seriously, there are two tiny rooms built into closets where only small children can fit, one even has a window. This one is $60k more expensive than the victorian because of the land.
Both houses are move-in ready, which is more than I can say for anything else we've seen. Yesterday a home took my breath away it smelled so horrible when we walked in. A mix of old people not cleaning up after their pets and weird canned food smells. I am tired of looking at weird and gross-smelling houses. I'm hoping we come to a conclusion soon. We have one more round of new houses to look at and we'll probably swing back around to view these two again.
Let me know what you think, if you have an opinion.